3. ShinMaywa's vacuum thin film coating technology
-- The field of the technology expanding more and more
ShinMaywa has focused attention on film coating on acrylic materials, which has such strength as reasonable price, high degree of hardness, excellent optical characteristics, ease of molding compared with other clear resins, and expected demand increase. The company has tackled the development of the vacuum thin-film coating system for acrylic bases.
Such products as DVDs, digital cameras, and mobile phones are becoming lighter in weight and lower in cost. Resin has been attracting attention as a lightweight material in low price and substituted for conventional glass and metals. The resin, however, is extremely weak against heat and less adhesive to thin films. In this way, resin has not been considered suitable for film coatings.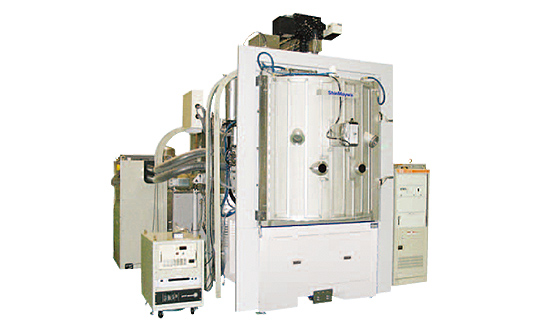 ShinMaywa has developed a process to form a film on an acrylic resin, by utilizing the unheated thin film coating system "SPD Ion Coater", while maintaining optical characteristics, adhesiveness, and durability. The SPD Ion Coater adopts a film coating technology named "Ion Plating", which is heating and dissolving film material in electric discharge (plasma), and is the method of giving energy to an evaporation particle and forming a thin film. ShinMaywa SPD Ion Coater can form the thin film with few impurities because it can maintain the plasma stabilized even in the high vacuum. Also the film can be hard, high-density and high-adhesiveness even in the low temperature.
As a result, it came to be able to replace parts for the optical equipment that used the glass and the expensive special clear resin with a cheaper more general acrylic material so far.
On the other hand, liquid crystal displays are becoming larger, and it has become difficult for operators to carry them from one production line to another. To solve the problem, ShinMaywa has developed an in-line thin film coating system to which a conveyor device is incorporated, as an application of long-cultivated technologies of robots and Automatic Wire Processing Machines.
The products that utilize thin film coating will become increasingly sophisticated. ShinMaywa is committed to develop more advanced vacuum thin film coating technologies, fully utilizing its unique technologies and know-how.